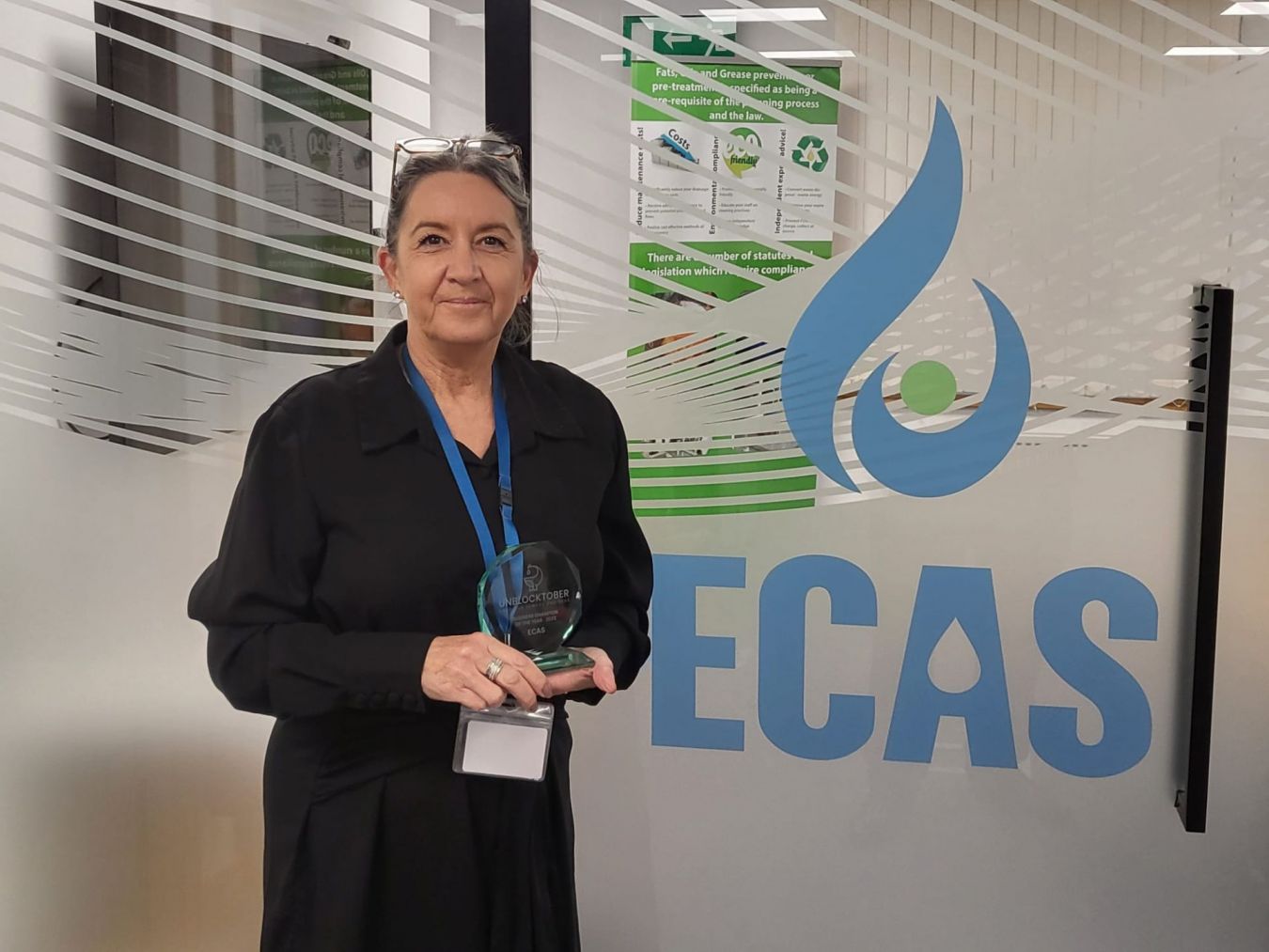 Unblocktober Partner ECAS: Over Five Years of Fighting Fatbergs
Tuesday 17th October, 2023
ECAS (Environmental Compliance and Services) – a steadfast supporter of the Unblocktober campaign since its inception, and 2022 Business Champion of the Year in the Unblocktober Awards – has been fighting fatbergs for over five years to save our sewers and seas.
On behalf of five major water companies – including Anglian Water, Scottish Water, Severn Trent, South West Water, and United Utilities – ECAS teams spend time in food service establishments (FSEs) making sure kitchen staff dispose of their fat and food debris responsibly, compliantly and sustainably. They also work with organisations outside the food sector to prevent unwanted discharges into the sewers, as well as educating households on what not to put down plugholes, drains and loos.
Over the years, ECAS has engaged with around 20,000 businesses and stopped an estimated 16,000 tonnes of fat, oil and grease (FOG) from entering sewers.
Sam Dalton, Operations Director at ECAS, said: "From pubs and prisons to universities and stately homes, our people work in all corners of the community educating and campaigning against sewer misuse to help stop blockages, sewer floods and environmental harm. We're bringing Unblocktober to life in all we do every day."
Swimming pools of FOG swerve the sewers
This year, ECAS celebrated helping to prevent around 10 million litres of FOG from entering the Severn Trent sewers. That's the equivalent of four Olympic-sized swimming pools.
Grant Mitchell, FOG expert at Severn Trent, said: "Many food business owners don't understand how their daily actions can cause problems for their businesses, the sewers and the environment. That's why the Unblocktober campaign is great for raising awareness, and it's invaluable to have ECAS proactively working with kitchen staff to show them how to avoid blockages. That might mean changing their everyday kitchen practices or installing grease-trapping equipment."
Award-winning education
In June, Anglian Water named ECAS as 'Supplier of the Year' and presented its 'Environment Award' for working collaboratively to help achieve the company's purpose and AMP7 goals.
Emily Timmins, Director of Water Recycling at Anglian Water, said: "Our partnership with ECAS is helping to bring about lasting change and positive outcomes in the communities we serve and the environments we protect."
The White Swan pub in Norfolk was one of the food service establishments that not only worked with ECAS to install grease-trapping equipment, but agreed to take part in an educational film to inspire other food businesses to do the same.
The best diet ever!
Fat fighting in Scotland began by putting the drains in St Andrews on a diet. On behalf of Scottish Water, ECAS worked with 172 food service establishments to ensure their FOG wasn't escaping into the sewers.
Natalie Walker, Corporate Reporting Team Manager at Scottish Water, said: "After the project was complete, the St Andrews sewers were a staggering 160 tonnes lighter. This was mainly down to the collaboration between Scottish Water, ECAS, local MPs and environmental groups who galvanised the local community to get behind the campaign and change their kitchen habits."
Blockage busters in the North West
To stop the block of sewage pipes, which can lead to pollution, ECAS has been representing United Utilities in every type of location – from the glitz of Blackpool to the beauty of the Lake District.
Andrew Peet, Wastewater Network Protection Manager at United Utilities, said: "Protecting the environment is a key priority for us, and proactively working with the food sector to help prevent pollution caused by sewer misuse is one way we achieve this. ECAS works with businesses to provide education and training so they understand the impact that cooking oils, grease and food debris can have on local communities and the environment if it enters the sewers."
Sewer misuse crimes
Over the years, ECAS has found itself 'doing time' educating prison staff!
Sam Dalton explains: "Toilets within prison cells are sometimes treated like bins, which leads to blockages. We've seen inmates flush eggshells after making protein shakes, or peelings after fermenting oranges to make alcohol. We've even had cases where unauthorised mobile phones have gone down the loo."
Section 111 of the Water Industry Act 1991 makes it a criminal offence to damage, restrict or block the free flow of a public sewer. Where a business isn't taking its obligations seriously, water companies can ask them to contribute to the cost incurred to deal with non-compliant discharges into the sewers, including FOG and unflushables.
Sam added: "It's costly for our clients to deal with the ramifications of sewer misuse. Over the years, we've recovered millions of pounds to help protect communities and the environment."
Saving our seas in Devon and Cornwall
ECAS's latest partnership is with South West Water. The team aims to visit around 800 FSEs in ten blockage hotspot areas. These are places where blockages have been causing problems over the last two years.
Andrew Blake, Project Manager at South West Water, said: "We're working together to educate and support more businesses to help prevent blockages.
"In September – perfectly timed for Unblocktober – we launched our new network protection website to provide food business owners information on preventing their FOG from escaping from their kitchens. It features a video case study of one of the first restaurants ECAS worked with that installed grease trapping equipment."
To learn more about how ECAS reinforces the Unblocktober message in their everyday work, visit their website.