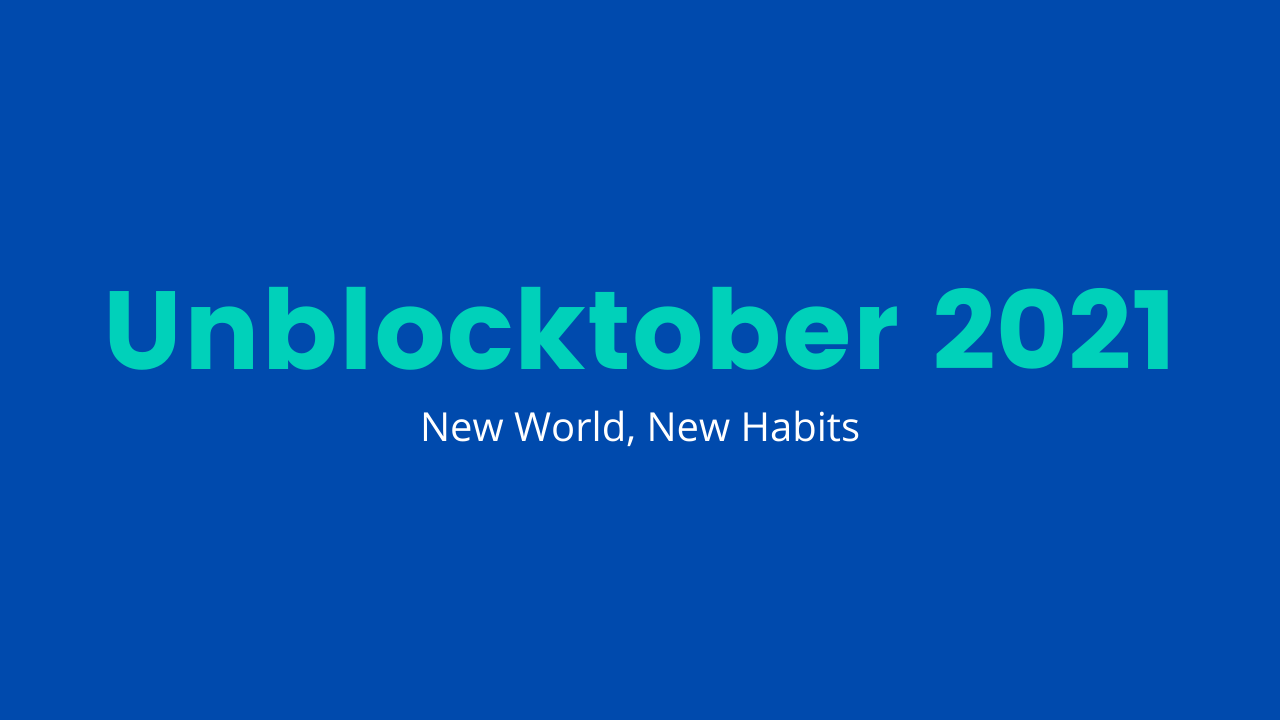 New World, New Habits: Saving our Sewers and Seas One Positive Action at a Time
Thursday 12th August, 2021
Unblocktober, the world's first awareness month designed to fight fatbergs and prevent plastic pollution, is returning for its third year in October 2021.
Over the last two years, almost 20,000 people have pledged their support for the Unblocktober campaign, challenging themselves to take the necessary steps to introduce more sustainable habits into their everyday lives.
This year, the campaign will focus on the idea of "New World, New Habits" - exploring how we can come out of the pandemic with more sustainable habits than we had when it started, and look to encourage those taking part to make a few small changes each day, in order to make a huge change to the health of our sewers and seas over time.
As life slowly returns to normal, we will be sharing helpful tips and tricks that, when carried out consistently, will have a hugely positive impact on our waterways.
If you want to get involved, you can sign up now and get ready for the challenge.
What is Unblocktober?
Unblocktober is an annual awareness month, designed to highlight the damage we can unknowingly cause our sewers and waterways by disposing of common household items incorrectly.
We invite individuals and businesses to take on the challenge and avoid putting fats, oils and grease (FOG), food, face masks and wet wipes and a range of other troublesome items down their drains for 31 consecutive days in October.
It is hoped that by introducing these new habits, those taking part will be more mindful of the simple steps that can be taken to avoid creating issues in the drains moving forward - even if you've taken part before, we implore you to get involved and challenge yourself to adopt even better habits in 2021.
New World, New Habits
In the last 18 months, the number of "unflushable" items finding their way into our drains has increased significantly, with improper disposal of face masks, rubber gloves and wet wipes all exacerbating existing problems. This is causing damage and blockages within our sewers and pipes such as fatbergs, while also contributing to plastic pollution in our rivers and seas.
This year, we will be encouraging those taking part to reconsider some of the day-to-day practices that we have previously taken for granted, such as how to dispose of your used face masks, ways to make your commuting habits more sustainable and how exactly to get rid of leftover paint.
We hope that by providing simple solutions that don't involve inappropriately flushing or pouring your non-biodegradable waste down the sink, we can help you to make better decisions when it comes to taking care of our sewers and seas - after all, they belong to everybody.
Why should you get involved?
For those looking to make a positive change, Unblocktober provides a fantastic solution. Almost 90% of those who have previously taken part in the Unblocktober challenges report having successfully completed the challenge, with 87% believing it improved their understanding of what can be put down the toilet and drains.
The campaign has the backing of well over 120 organisations, including the Environment Agency, Water UK and the Marine Conservation Society - all of which credit the campaign for the positive impact it has had on changing attitudes towards how our vital waterways are treated.
How can I sign up?
You can sign up to take part in Unblocktober at any time - even during the month of October. Simply click the sign-up button - at the top of the page - to let us know if you are supporting us as an individual or business, and enter your details to get started.
Once you have pledged your support, you will immediately start to benefit from the wide range of resources available to help you successfully complete your challenge.