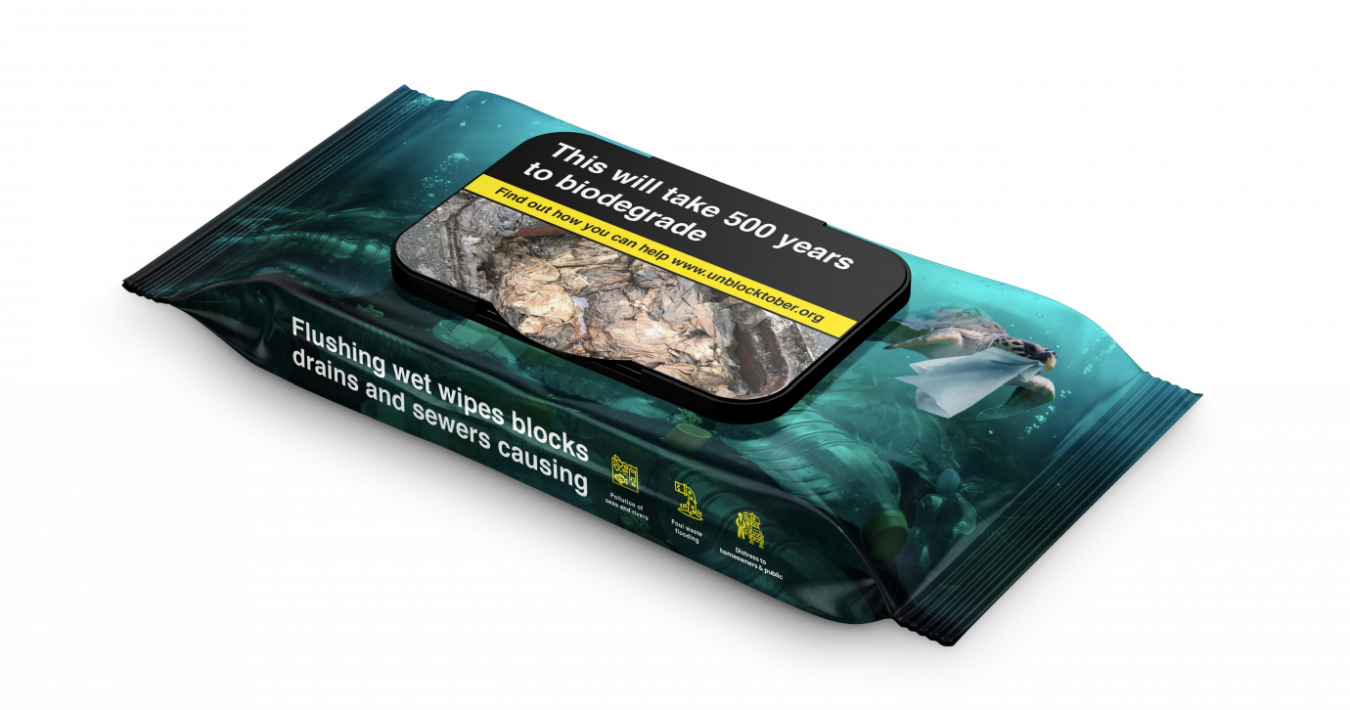 16-year-old school pupil's amazing invention that can help solve the UK's fatberg crisis
Tuesday 13th October, 2020
This is a press release from Unblocktober
A bold idea to help protect the environment, conceived by a 16-year-old school pupil from the North West of England, has been brought to life in an attempt to solve the UK's fatberg crisis.
Unblocktober - led by Lanes Group - is the world's first national campaign to reduce plastic pollution and fight fatbergs, and has been working alongside schools to educate the youngest generations about the importance of adopting good habits in the home to help the environment.
As part of these sessions, Unblocktober opened the floor to the youngsters at Woodhey High School in Bury to find out about their thoughts on fatbergs and plastic pollution caused by man-made waste.
Emma Greenwood, at the time in year 10 and aged 15 and with a keen interest in protecting the environment thanks to her role in the school's 'Eco Club', suggested the idea of using cigarette-style packaging for 'unflushable' items such as wet wipes to visually demonstrate the damage they cause if they are flushed into the sewage network.
The team at Unblocktober thought it was such a good idea that they decided to make it a reality by designing a series of wet wipe packaging concepts based on Emma's suggestion.
They are now calling for industry regulators and the government to push manufacturers to be clearer about the damage their products may cause.
Naomi Wright, from Unblocktober, said: "We know that good habits are easier to adopt when they are instilled at a young age - that's why we have been working with schools to teach youngsters about the effect that our actions can have on the planet.
"These young people are inheriting a man-made problem that has existed for decades. If the brightest minds can contribute unique and creative new ideas to solve these old challenges, then we can make significant progress."
Emma, who is now an environmental activist and youth MP for Bury with over 2,000 followers on Twitter, said: "My inspiration for the wet wipe packaging idea was to try and connect people with the direct effects of their actions.
"It's so easy to disconnect yourself from the consequences of your decisions because it's 'not your problem' but, inevitably, it does come back to affect you. I hope the packaging will give people the evidence they need to switch to sustainable alternatives or to dispose of the wipes safely."
Mr Dave Savage, geography teacher at Woodhey School, said: "We at Woodhey are so proud of Emma. I always knew that Emma was destined for great things and it comes as no shock to know that her ideas for future sustainability are being taken seriously and developed. Emma inspired so many staff and students at Woodhey during her leadership of Eco Club, encouraging them to take care of the environment and change their ways.
"Emma was involved in a number of initiatives, both inside and outside of school, helping to educate others about plastic waste and encouraging them to recycle more, as well as many other things. Emma even developed the school garden, which has now been transformed from broken garden beds to an area where students and staff now grow their own vegetables. I know this is not the last we will hear of Emma helping to change the world for the better."
Unblocktober challenges individuals and businesses to avoid putting fats, oils and grease (FOG), food, wet wipes and a range of other troublesome items down their drains for 31 consecutive days in October.
Launched for the first time in 2019, the campaign was hailed as a great success after more than 4,500 Brits signed up to take on the challenge.
In addition, more than 50 prominent organisations - including the UK's leading utilities companies, the Environment Agency, Water UK, and the Marine Conservation Society - officially partnered with the campaign to spread the word.
According to Unblocktober, there has never been a more important time to look after our sewers and seas.
Naomi added: "The coronavirus crisis has taken a terrible toll on communities around the world, and unfortunately that damage has reached our sewage networks and rivers, lakes and seas too.
"With more people at home during the global lockdown, 'coronavirus fatbergs' have been forming at staggering rates across the world as a result of 'unflushable' items and substances being put down our drain on a much larger scale than ever before, as a result of the toilet paper shortage.
"Plastic pollution has risen too, with more single-use plastic and disposable PPE being used throughout the crisis, but often not being disposed of correctly.
"Fatbergs and plastic pollution were already two of the most critical environmental issues before lockdown, and sadly the situation has only worsened. The good news is that both problems are entirely man-made, which means if we come together as a society we can make a big difference."
ENDS
Editors notes:
PR Contacts:
Graham Allchurch
Telephone: 0161 402 3170
Email: graham.allchurch@i-com.net
About Unblocktober
Unblocktober is the world's first national campaign and awareness month to improve the health of our drains, sewers, watercourses and seas - driven completely by the British public.
For the month of October, participants are challenged to avoid putting any of the following down their sinks or toilets:
Cooking oil - pre or post-cooking
Margarine
Butter
Lard
Cooking sauces and condiments
Food - even crumbs
Wet wipes
Tampons, applicators and wrappers
Sanitary/menstrual pads and towels
Nappies
Condoms
Cotton buds
Contact lenses
Bandages and plasters
Razor blades
Dental floss
To find out how to become part of the community taking action to protect the UK waterways and sewage networks this October, then go to www.unblocktober.org and sign up for your pack today.
Website: www.unblocktober.org
Twitter: www.twitter.com/unblocktober
Facebook: www.facebook.com/Unblocktober
Instagram: www.instagram.com/unblocktober
Unblocktober's supporters include:
Environment Agency
Water UK
Love Water
Thames Water
Severn Trent
Anglian Water
Southern Water
Yorkshire Water
British Water
United Utilities
Northumbrian Water
Fab Little Bag
The Rivers Trust
Water Research Centre
Future Water Association
Cheshire Wildlife Trust
Hvitved Larsen
United Kingdom Society of Trenchless Technology (UKSTT)
Marine Conservation Society
Ofwat
Surfers Against Sewage
Northumbrian Water
The Flood Hub
Grease Contractors Association
Business Stream
Spiroflow
Water Jetting Association
The Final Straw
Veganuary
Love My Beach
Plastfree
WEN
Plastic Soup Foundation
Dorset Council
Sussex Wildlife Trust
TOTM
Manchester City Council
Organicup
CCwater
WaterAid
AquaSPE

About Lanes Group
Lanes Group plc is a national wastewater and drainage solutions provider. It sits at the heart of the drainage industry in the UK and Ireland, and is serious about delivering excellence in service, safety and innovation.
The company has a network of 32 depots and strategic utility hubs, providing high-quality utility, drainage and maintenance services for commercial, public sector and domestic customers.
Specialist market sectors include water utilities, construction, energy, rail, highways, insurance and commercial maintenance.