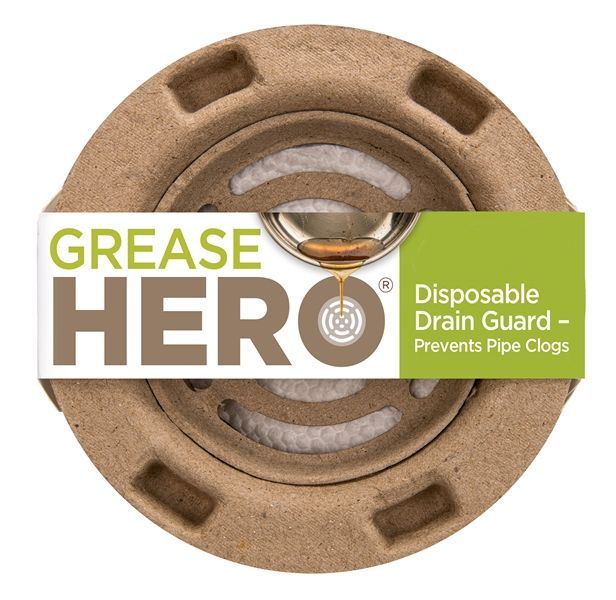 Grease Hero Supports Unblocktober's Initiative to Protect Our Ocean
Tuesday 22nd September, 2020
Grease Hero was developed to help people properly dispose of cooking fats, oils and grease (FOG) after making a meal; however, protecting the environment has always been the mission.
Clogged pipes and sewer lines are dangerous for people, animals and the environment. When cooking fats, oils and grease make their way into waterways, lakes, streams, fresh water supplies and the ocean through raw sewage overflows, we are all at risk. Sewage overflows contaminate public places and waters. People can be put at risk of exposure to the untreated sewage when drinking from a contaminated community water supply, eating contaminated fish or shellfish and swimming in contaminated open water.
Supporting Unblocktober is a natural fit for Grease Hero because of our shared goal of protecting the environment for future generations.
The Initial Idea for Grease Hero
Grease Hero was built out of a personal need—Shawn Santos, owner of multifamily rental units throughout Hawaii, had a recurring problem: plumbing pipes clogged with fats, oils and grease (FOG) that had been poured down drains; "I needed to educate tenants." His father was a plumber and from a young age Shawn tagged along with him on his various plumbing calls, with this hands-on education he had extensive knowledge on the issues and dangers of grease-clogged pipes. "It can turn a 4-inch pipe into a 2-inch pipe." Shawn also knew that much of that oil ends up in Hawaii's waterways and, eventually, the ocean.
While Grease Hero was developed to help with environmental pollution close to home, Shawn quickly realized that people and communities all around the globe could benefit from a quick, easy and environmentally responsible way to dispose of cooking fats, oils and grease.
Grease Hero is a disposable drain guard, made from recycled materials, that can be set in the kitchen sink drain, on a countertop or any flat surface. You simply pour in the used cooking oil or grease directly from your pan into it and then dispose of it in the trash or at your local recycling facility. (See Grease Hero in action.) Keeping cooking fats, oils and grease out of your home's plumbing and city sewer lines is one simple step you can take to help create a healthier planet.
Grease Hero Proudly Supports Unbocktober's Mission
Grease Hero is proud to support Unblocktober's mission to save our sewers and seas. We understand the environmental dangers of rinsing FOG down the kitchen sink and flushing items that shouldn't be and applaud Unblocktober as they work to educate the public on these global issues.
"While 77% of the population know what a fatberg is and 64% say they are 'very aware' of what should and shouldn't go down their drains, 48% willingly continue to put fatberg-forming substances into our sewers." (Lanes for Drains)
We know that partnering together to help spread the word about proper and responsible disposal of common household items, we can have a positive impact on the health of our ocean.
Join our mission to save the environment.
You can follow Grease Hero on Instagram, Facebook, Twitter, LinkedIn and YouTube.