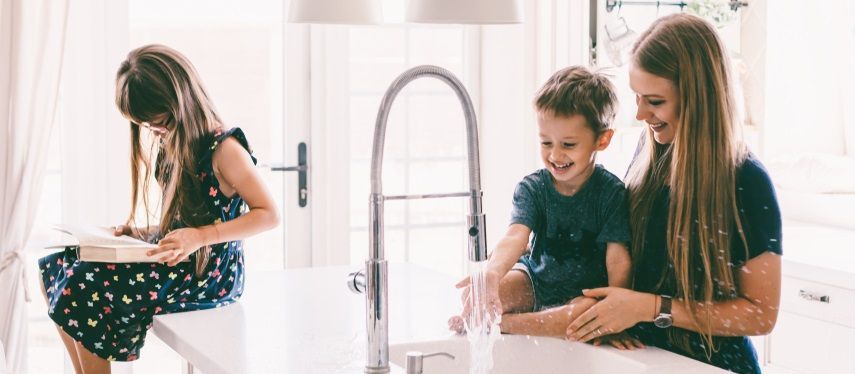 Unblocktober: 10 Ways to Get Your Friends and Family Involved
Friday 20th September, 2019
There's less than a week to go until the first ever Unblocktober campaign begins, and households and businesses across the country are now gearing up to take part in what promises to be a groundbreaking effort to save our sewers and seas.
With more than 1,000 participants already signed up, Lanes Group – who are behind the innovative campaign – have high hopes that Unblocktober will make a real difference in preventing the UK's waterways from being blocked and polluted, simply by helping people make small changes to their everyday habits.
Taking part in Unblocktober is as easy as signing up and committing to avoiding putting certain items down your drains or toilets, including wet wipes, plastic products, and fat, oil and grease (FOG), for the month of October. However, if you'd like to do more to make Unblocktober a success, then you can help by getting your friends and family involved!
There's still plenty of time to sign up and take part, so if you know someone who's still on the fence about participating, here are 10 tips on how to persuade them to get on board with Unblocktober
1)Show how easy it is to take part
The goals of Unblocktober may be lofty, but taking part in the campaign is actually very simple. To take part, all you need to do is sign up as an individual or as a business, and then commit to avoiding putting any of these items down the drain during October:
Cooking oil – pre or post-cooking
Margarine
Butter
Lard
Cooking sauces and condiments
Food – even crumbs!
Anything containing plastic, including:

Wet wipes
Tampons, applicators and wrappers
Sanitary/menstrual pads and towels
Nappies
Condoms
Cotton buds
Contact lenses
Bandages and plasters
Razor blades
Dental floss
2) Open their eyes to the fatberg menace
One of the main goals of Unblocktober is to prevent FOG from entering the sewer system, as these substances tend to congeal into giant fatbergs, clumping together with other non-biodegradable items to form impenetrable blockages.
Around £90 million is spent annually clearing these kinds of blockages, making them a major problem. They are also quite disgusting, so if you know someone squeamish, showing them what a fatberg really looks like may be enough to persuade them to join the Unblocktober effort!
3) Ask them if they understand the danger of hidden plastics
Hidden plastics are another key target of this campaign, and may be an issue that some may not know about. Most people understand the importance of keeping items like plastic bottles and bags out of the waterways – but what about items where the plastic content is much less obvious?
Every day, householders allow objects such as tea bags, nappies, period care products and especially wet wipes to be flushed down the toilet, failing to realise how much plastic they contain. It's absolutely vital that everyone understands the scale of this problem – and Unblocktober offers an ideal opportunity to take control of this damaging habit.
4) Show them how their actions can protect their communities and their planet
If you've read the news recently, you'll understand that there's no time to waste when it comes to taking environmental action, both on a local and a global scale.
With more than eight million tonnes of plastic being dumped into the ocean each year, initiatives like Unblocktober will prove essential in turning the tide and protecting our ecosystem for future generations. Such efforts will also yield benefits in the short term – after all, more than 3,000 homes are flooded in the UK each year due to fatbergs, so there's plenty of impetus to take action sooner rather than later.
5) Discuss the useful products that can help them succeed
Unblocktober is an easy campaign to get involved with, but it can be made even easier by purchasing a few household products that can help you run a drain-friendly home, throughout October and beyond.
A simple sink strainer, for example, can help to ensure that no solid food items pass into your plughole by accident, while a food scraper allows you to get all of the crumbs off your plates and bowls before they even enter the sink or dishwasher. Our campaign is designed to promote simple solutions that can make a big difference, and with products like these, even lifelong habits can be changed with very little effort.
6) Give them a look at your resource pack
The exclusive resource pack available to Unblocktober participants is jam-packed with useful tips, advice, checklists, equipment lists and much more, all designed to help those who sign up to make a big success of the month-long challenge.
If you've already signed up, feel free to share the resource pack with your friends and family, allowing them to see some of the eye-opening statistics that underline the importance of Unblocktober – and to get a flavour of the expert advice that can help them get involved.
7) Talk about who else has signed up
Unblocktober is a brand new initiative, so to convince those who are sceptical of campaigns they haven't heard of before, it's worth pointing to some of the high-profile supporters it has already received.
Most notably, the campaign is an official part of the broader Love Water initiative, which is jointly led by the Environment Agency and Water UK, and counts the likes of Sainsbury's, Ofwat and the National Union of Students among its partners.
Unblocktober is also officially supported by leading industry organisations such as Thames Water, Southern Water, Yorkshire Water, The Future Water Association, The Rivers Trust, United Utilities, UKSTT and many more, which shows just how much influence it could have.
8) Show how switching to eco-friendly habits can benefit them directly
When asked to take part in a campaign like this, it's only natural that some people will ask what's in it for them. In the case of Unblocktober, it's a fact that many of the habits that help to protect our sewers and drains also offer significant benefits for householders themselves.
Keeping your drains free of fat, grease and plastic means less chance of damaged pipes and domestic flooding, all of which can be hugely expensive to deal with. Meanwhile, switching to eco-friendly household items – such as reusable nappies and period care products – can often be much cheaper in the long run than buying an endless supply of single-use plastic-based alternatives.
9) Point to the prizes on offer
Unblocktober participants can also benefit from an even more direct reward, in the form of an exciting prize draw. Everyone who signs up before October 1st will be automatically entered into a competition to win a hamper of eco-friendly goodies, worth more than £175.
This includes items such as plastic-free tea bags, bamboo socks, biodegradable baby wipes, a Guppyfriend wash bag, and much more!
10) Highlight the social aspects
With more individuals signing up every day, Unblocktober looks set to generate some real enthusiasm around an important topic – and the only way to get involved in that conversation is to sign up!
Keep checking the #Unblocktober hashtag on social media throughout the month to see updates, pictures, video diaries and tips for other participants. If you share something inspiring of your own, we'll do our best to promote your contributions through our own networks!
How can I learn more?
Hopefully, these 10 reasons should be enough to get even the most reluctant of your friends and family members on board with Unblocktober. If you're reading this and are ready to sign up, then there's still time to get involved.