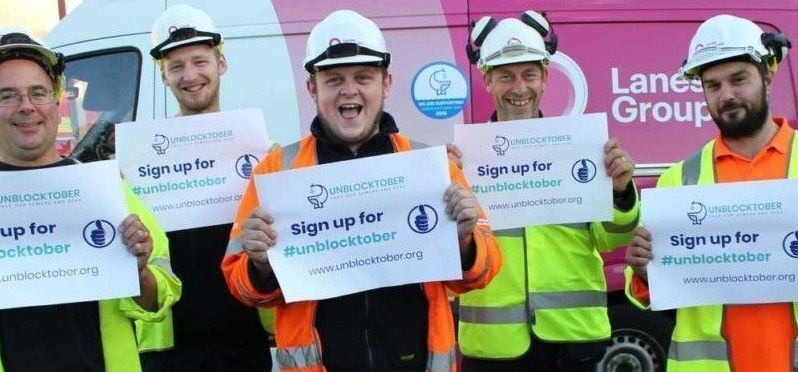 Unblocktober: How Can Businesses Get Their Staff Involved?
Monday 30th September, 2019
Businesses across the country are currently gearing up for the first ever Unblocktober campaign, a groundbreaking new initiative that aims to save our sewers and seas by encouraging individuals across the country to change their drainage habits this October and beyond.
By avoiding putting certain items down their drains or toilets for the whole month – including wet wipes, plastic products, and fat, oil and grease (FOG) – we're hoping that participants can protect Britain's waterways from blockages and pollution. The business community will play a major role in this, and we've already seen some of the UK's biggest organisations signing up to take part.
With the start of Unblocktober fast approaching, we've put together a few tips to help business owners and managers get their staff fully involved in their drain protection efforts throughout the month of October. The more engaged your workforce is, the greater your chances of succeeding in your Unblocktober goals!
Selling the importance of Unblocktober
Every business knows that putting across a convincing sales message is the key to lasting success. That's why it's so important to put in the effort to communicate to your staff just how important the Unblocktober campaign could be.
Most working-age people are already well aware of the environmental challenges facing modern society – but many may be less educated about the role that improper drainage habits play in causing these problems. Carelessly discarding non-biodegradable items down the sink or toilet might not cause an immediately obvious problem, but the cumulative damage this can do to the UK's sewers and natural ecosystems can be massive.
When communicating the importance of Unblocktober to your staff, it could therefore be useful to highlight a few eye-opening statistics that truly demonstrate the scale of this problem:
More than 3,000 homes are flooded in the UK every year because of blockages and fatbergs created in the sewers by improperly discarded FOG
£90 million is spent on clearing fatbergs in the UK each year
Eight million tonnes of plastic are dumped in the world's oceans on an annual basis
4.8 pieces of period care waste are found for every 100 metres of beach cleaned
Wet wipes make up around 93% of the material found in sewer blockages, and are estimated to cause around 300,000 blockages every year
You can find and share more of these illustrative facts and figures in the official Unblocktober resource pack, which you'll receive after your business signs up as a campaign supporter.
Tips for engaging your staff
With the right messaging in mind, it's time to start looking for ways to spread the word about Unblocktober to your staff members. There are a number of ways of doing so, and many of these methods will be similar to the approach you may already use when getting employees to engage with charity campaigns and fundraising activities:
Organise an Unblocktober newsletter or presentation
It's important to get the word out about Unblocktober before the campaign month starts, so take the opportunity to send out an explanation of the initiative and its goals in your company newsletter, or gather your staff together for a meeting to explain the process. The latter can be particularly useful, as it will give employees the opportunity to ask questions and discuss the answers with the rest of the team.
Make it easy for staff to take part
Remembering all of the items that can and can't be flushed down the drains can be difficult, especially for busy workers with a lot on their minds. That's why you should work to make it easier for staff by placing the print-out-and-keep poster included in your Unblocktober resource pack in a visible location in the kitchen and bathroom, offering an at-a-glance reminder of what to do, where it is most needed.
Update your employees on their progress
As with any workplace project, staff will be more motivated to keep up on their Unblocktober efforts if they can see a visible marker of their progress. Keep your workers in the loop on how they're doing by sending out email reminders of how far along they are through the month, or use the progress tracker calendar included in the Unblocktober resource pack to accomplish this.
Highlight examples of great work
If one of your colleagues goes the extra mile to make the campaign a success, that's something worth celebrating! Make a point of congratulating employees who are particularly vigilant in emptying out the sink strainer, or who actively keep up on their Unblocktober goals outside of work, either internally or on your company's social media account. If you share their achievements on the official #Unblocktober hashtag, we can help you to highlight their great work (and your brand's commitment to environmental protection) nationwide!
Delivering lasting change
The Unblocktober challenge will last throughout October, and will make a big difference in bringing down the amount of pollution making its way into our sewers and seas throughout the month. However, for Unblocktober to truly succeed, we're hoping that businesses will be committed to ensuring that any new habits they pick up during the month will last far beyond the end of October.
Here are a number of ways in which you can ensure that the positive effects of Unblocktober can continue indefinitely:
Keep up the good habits – once your workers have spent a month learning what can and can't be put down the sink or toilet, there's no reason to fall back into bad habits. Keep monitoring the way your office handles its waste disposal, and carry on reminding workers about their responsibilities if you see standards slipping
Invest in eco-friendly products and keep using them – there are plenty of handy products that you can buy for your office to help you reduce the amount of waste entering the sewers, including sink strainers and food scrapers for the kitchen, or special eco-friendly wet wipes to replace plastic-based products. By investing in these during October and keeping them in use, you can help to change your office's drainage habits for good
Stay educated – now that you're aware of the impact that plastic pollution and fatbergs can have on the UK's waterways, don't get complacent! Keep on investing in biodegradable products and continuing to prioritise green issues in your corporate policies, and your business will be able to retain a strong reputation as an environmental champion
Find out more
For more advice and resources to help your business get fully involved in Unblocktober, sign up today and browse the official Unblocktober resource pack, which contains even more tips and information about the campaign and its goals.
Additionally, keep checking the #Unblocktober hashtag on social media throughout the month for ideas and inspiration from Lanes Group and the community – if your business comes up with some creative solutions, you can share them too, and help to make Unblocktober a month of real change.