Northumbrian Water demonstrates urgent case for Unblocktober
Thursday 17th October, 2019
Northumbrian Water have promoted the national Unblocktober campaign by demonstrating the major sewer problems caused by wet wipes in the North East of England.
The water company invited BBC Tees radio presenter Gary Philipson to visit its Cargo Fleet pumping station to see Lanes wastewater operatives clear some of the hundreds of thousands of wipes that clog the facility every year.
In three hours, on Thursday 10th October, the team removed about one tonne of wipes and other contaminating debris from the facility, even though it had been cleaned just a week before.
Unblocktober is urging the public and businesses to make small changes to their kitchen and toilet habits to prevent fats, oils and grease and items like wipes from getting into sewers where they cause blockages and release damaging plastics into the environment.
Richard Warneford, Northumbrian Water's Wastewater Director, said: "Wet wipes are one of the biggest causes of blockages for us and we really need our customers' help to wipe out the flushing of wipes.
"Despite wet wipes being promoted as 'flushable' they rarely are, as they may leave your toilet bowl when flushed but can clog up householders' plumbing and can also cause blockages in our network of sewer pipes."
Gary Philipson was shown how teams from Lanes, which cleans wet wells and pumping stations for Northumbrian Water, have to remove tonnes of wipes from the facility in Cargo Fleet, Middlesbrough every month.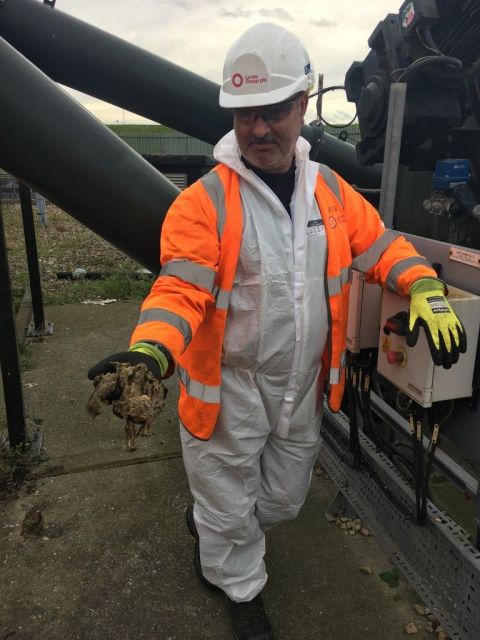 A lanes engineer holds a bundle of removed rag.
He watched as Lanes wastewater operatives Liam and Adrian Cornfield, and Paul Taylor, carried out a confined space entry to the pumping station to remove clogging debris, called 'rag', most of which is wipes and sanitary products.
The pumping station serves 15,000 homes and, at normal flow rates, pumps 600 litres of water per second on to the Gran Sands treatment works. An important task is to remove rag, most of which is automatically scooped up and placed in skips ready for disposal.
However, without regular cleaning maintenance by Lanes, the pumping station would get clogged up, causing sewer flooding risks.
Anthony Gray, Area Development Manager for Lanes Tankering Division, which carries out the work, said: "We were able to show Gary that, if people disposed of items like wipes, in the bin rather than flushing them down the toilet, a lot of this cleaning work wouldn't be necessary.
"No matter how efficient the filtering system and our additional cleaning is, microplastics from wipes and other products will get into waterways and then into seas, where they damage the environment and wildlife.
"The only things that should go into drains are the three Ps – pee, poo and toilet paper. When people see the impact of their misuse of our sewers, especially the wider damage to the environment, many do change their behaviours, which is why we're so pleased to work with Northumbrian Water to promote Unblocktober."
Unblocktober was started by Lanes and is now being supported by thousands of Brits, who have signed up to receive Unblocktober packs explaining the simple steps they can take to protect our sewers and oceans.
It is also backed by a growing number of businesses, charities and agencies, including Love Water, a major campaign involving 40 companies, regulators and conservation organisations.