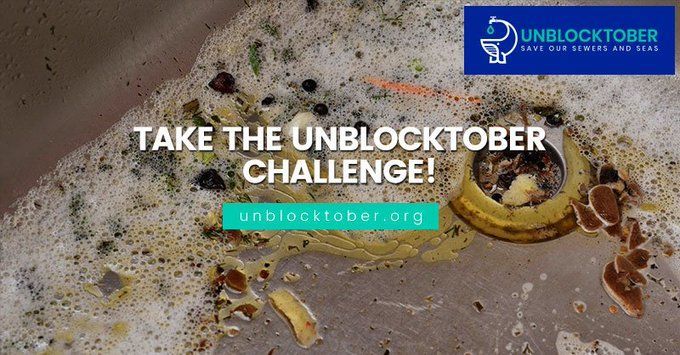 Unblocktober: The Best Social Media Reactions
Friday 18th October, 2019
We're now more than halfway through the first ever Unblocktober, our month-long campaign to save our sewers and seas – and it's fair to say that the campaign has been a big success!
More than 4,000 individuals and employees have already embraced the challenge, which encourages participants to take simple steps to protect their drains from blockages and pollution for the whole of October.
The campaign has also won the support of numerous high-profile organisations, from Defra and the Environment Agency to Water UK and Keep Britain Tidy.
Yet one of the best measures of the success of Unblocktober has been the number of people and organisations using the official #unblocktober hashtag on Twitter, Facebook, Instagram and LinkedIn to pledge their support, share information and spread the word about the campaign.
As such, we've compiled a roundup of some of the best social media reactions to Unblocktober so far!
Support from friends of Unblocktober
One of the most encouraging trends we've seen so far is the sheer number of supporters – including individuals, companies and campaign groups – taking to social media to show their support for Unblocktober. Here are some great examples:
#Unblocktober top tip: Fats, oils and grease can clog pipes if they're poured down the sink or even flushed down the loo. Instead, allow them to cool first before disposing of them in the bin. For more info follow @unblocktober #ShowWaterSomeLove pic.twitter.com/NJtD8NzUvi

— Ofwat (@Ofwat) October 1, 2019
It's #unblocktober! This month it's all about being careful what we put down the sink or the loo. Fat, oil, grease, and the dreaded wet wipes cause blockages, with really unpleasant consequences. https://t.co/hrGFjzFcqs

— Cllr Lorna Dupré ???????? ???????? ???? (@lornadupre) October 4, 2019
We're supporting #Unblocktober

A month long campaign in the #YearOfGreenAction that challenges us all to change our kitchen and bathroom habits to protect the environment

Take action today @unblocktober https://t.co/hfc1J5swon pic.twitter.com/UAdRAW0rom

— DefraNature (@DefraNature) October 1, 2019
UNBLOCKTOBER!
You can sign up as an individual or as a business (ITS FREE), to get an information pack telling you everything that shouldn't go down your drain. Tiny changes make a big difference to our environment, have a go if you can at #unblocktober .https://t.co/9VICupkfJ2 https://t.co/DwglHP28Yw

— Lydia Mae (@Lydia_Mae_C) October 3, 2019
Putting fat, oil and #TheUnflushables down the sink and loo can cause blockages on our network, leading to flooding in homes and businesses. We're proud to support #Unblocktober - a month long campaign to encourage everyone to only flush the 3ps and protect our environment. pic.twitter.com/mvOPKaMupO

— Southern Water (@SouthernWater) October 1, 2019
I've just signed up to #unblocktober and to not putting 999 springs down the toilet for the whole of October (oh and also plastics and oils...) https://t.co/ZpOMPkXMTk pic.twitter.com/tY1WiJdd8E

— Natalie Rose (@thenegative_won) September 30, 2019
#Unblocktober appeals so to me in so many ways. https://t.co/RXBqVTHadw

— Sarah Thorp (@sarahthorp) October 1, 2019
Emily having some fun, making sure she know what to flush #imbackcaring #FoEScot #unblocktober pic.twitter.com/d8D7xVsjPP

— Alexander Raeburn (@A_A_D_R) October 12, 2019
Helpful information on what to do
It's also been hugely positive to see how many Unblocktober supporters are using the #unblocktober hashtag to share tips, tricks and useful information to help make the campaign a success.
If you're looking for ways to ensure you achieve your Unblocktober goals, you could do worse than checking out these tweets:
Plastic to avoid in everyday items#greenliving #plasticfree #unblocktober #environment #oceanconservancy via @ukdnwaterflowlg @unblocktober https://t.co/SwaevBt0fY pic.twitter.com/oKWAYAWqYH

— ecogreenlove (@ecogreenlove) October 3, 2019
#MythBuster time!
1) If you pour cooking fats and oils down your sink, piping hot water WON'T flush it away! Fats and oils are actually the cement of the sewage world, so they'll slowly build up in your pipes no matter how many times you rinse. #Unblocktober #Binit #LoveWater pic.twitter.com/5uCvCdZnG1

— Thames Water (@thameswater) October 7, 2019
As part of #unblocktober it's important to raise awareness by respecting our drains and sewage systems. Prevent non-flushable products from being flushed to the sewers. ????

View our Septic Tank Maintenance guide for more information. https://t.co/Wku7CmiOO8

— Tardis Environmental (@TardisEnviro) October 11, 2019
Even kitchen vegetable washers can drag #FOG into the sewers if not used properly. For a list of other FOG-generating culprits found in commercial kitchens see our FAQs https://t.co/VCDfHRspTh #GCA #Unblocktober pic.twitter.com/3y6wjXSukW

— Grease Contractors Association (@GreaseContract1) October 11, 2019
This Unblocktober we are encouraging businesses to tackle the war on fat, oil and grease waste (FOG). Does your business use any of these fatberg causing materials, and if so, are you disposing of them correctly? Find out more: https://t.co/DLP1QXgX7F #CastleWater #Unblocktober pic.twitter.com/wr0C5HlCJc

— Castle Water (@CastleWaterLtd) October 10, 2019
Check out our blog post about why fats, oils and greases are bad for our drains. #unblocktober #fogs #cleanseaspleasehttps://t.co/LcpvqxFrX4

— Clean Seas Please (@cleanseasplease) October 10, 2019
Evidence of what we're up against
In addition to this helpful advice, some have been using #unblocktober to raise further awareness of some of the problems the campaign is designed to tackle: namely, the environmental and public health threats posed by fatbergs and waterway pollution. For an eye-opening look at the kind of issues Unblocktober is aiming to solve, check these out:
A real example of the headache experienced by communities because of blocked pipes full of wet wipes #Unblocktober https://t.co/p02PiEeRZ2

— ECAS (@ECAS_World) October 11, 2019
Sorry it's not a nice sight, but this is what our teams deal with on a regular basis. This manhole overflow in Hitchin was caused by a mass of fat and wipes. We're tweeting a blockage every day for #Unblocktober pic.twitter.com/z1dLb9n8jS

— Anglian Water (@AnglianWater) October 7, 2019
This #unblocktober take a moment to consider what happens to to the #waste we put down our #sewers.
This short news film shows the life of a #fatberg up close!!
https://t.co/csM1vTnrOv#StopFlushingWipes #onlyflush3ps pic.twitter.com/RqEjE3gWdS

— Newground Flood (@nwgrnd_Flood) October 7, 2019
A final reminder…
Unblocktober is now coming to a close, but as this media coverage shows, it's really made an impact on the British public. That's why it's so important for all of you who took part in the campaign to make sure you continue the Unblocktober spirit into the rest of the year!
That means making sure to always avoid putting any of the following down the sink or toilet:
Cooking oil – pre or post-cooking
Margarine
Butter
Lard
Cooking sauces and condiments
Food – even crumbs!
Anything containing plastic, including:

Wet wipes
Tampons, applicators and wrappers
Sanitary/menstrual pads and towels
Nappies
Condoms
Cotton buds
Contact lenses
Bandages and plasters
Razor blades
Dental floss

Unblocktober 2019 may be over, but the fight to save our sewers and seas is only just beginning – and there's never a bad time for any of you to get involved!