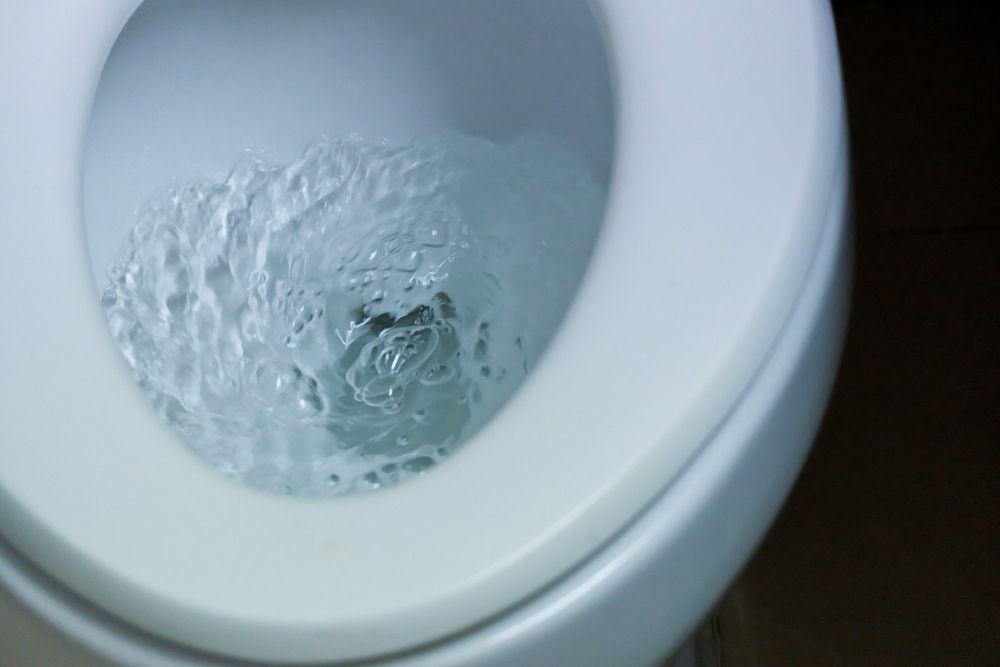 Announcing the 2023 Unblocktober Awards Nominees!
Tuesday 7th November, 2023
Unblocktober has come to a close for 2023, which means it's time to choose the winners of this year's Unblocktober Awards! This scheme is designed to celebrate the achievements of businesses and individuals who have gone the extra mile to embody the spirit of Unblocktober, while raising awareness of the campaign and its goals.
We were delighted with the quality of the nominations we received for the inaugural Unblocktober Awards in 2022, so our hopes were high going into 2023; happily, the commitment that our Unblocktober champions have shown this year have exceeded these expectations, once again resulting in an outstanding lineup of nominees.
Without further ado, we present: the shortlist for the 2023 Unblocktober Awards!
Individual Champion of the Year Award Nominees
Fleur Anderson
Fleur Anderson is the MP for Putney, Roehampton & Southfields, and the current Shadow Minister for Northern Ireland. One of Parliament's leading voices in the national fight against plastic pollution, she has lobbied for many years for stronger national plastic reduction targets, and is at the forefront of a potentially groundbreaking bill to ban plastic in wet wipes, with cross-party backing and the support of environmental organisations.
Fleur pledged her official support for Unblocktober 2023 with a video message recorded on the banks of the River Thames, calling on people across the country to join the campaign. We're immensely grateful to Fleur for throwing her support behind the cause!
Fleur Anderson MP is asking you to support Unblocktober.

The campaign to stop flushing wet wipes, which, combined with fat, causes 300,000 blockages annually! Destroying sewers, seas and our environment.

Pledge here: https://t.co/lhoFhieOre@WaterUK @BBCNewsnight @PutneyFleur pic.twitter.com/xwZsQzDASp

— Unblocktober (@unblocktober) October 6, 2023
Marc Downes
Marc Downes is the operational performance manager at Environmental Compliance and Services (ECAS), an environmental consultancy and compliance group. ECAS have been huge supporters of Unblocktober since the very beginning, and won the inaugural Unblocktober Business Champion of the Year Award in 2022.
Marc has devoted his entire working life to helping to save our sewers and seas. In his role at ECAS, he has played a massive part in helping to stop more than 17 million litres of fat, oil, and grease (FOG) from entering sewers by engaging and educating food businesses on avoiding blockages. Additionally, Marc volunteered his time to help South West Water and Anglian Water Services create highly engaging educational videos for the food sector, further demonstrating his commitment to the values of Unblocktober!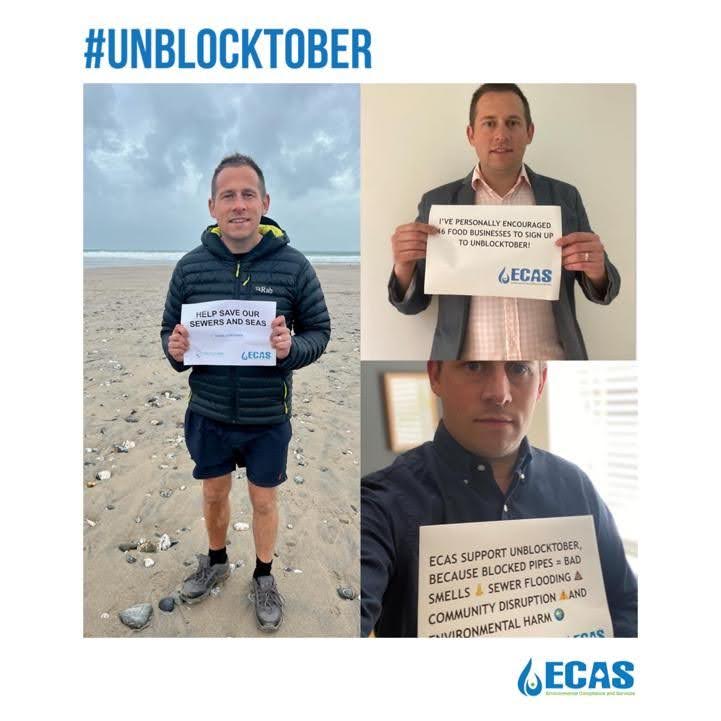 Business Champion of the Year Award Nominees
ECAS
ECAS, our reigning 2022 Business Champion, returns as a nominee in 2023. Working on behalf of five UK water companies, ECAS held more than 12,000 conversations about the impact of sewer misuse with businesses, householders and event-goers in October. This year, the team also celebrated helping Severn Trent Water to stop around 10 million litres of FOG from entering the Severn Trent sewers since their contract partnership began.
ECAS has been an unwavering and vocal support of Unblocktober since its inception in 2019. This year, this has included consistent social media promotion of the campaign, contributing a blog post to tell their Unblocktober story, and enthusiastic participation by the ECAS team in the weekly challenges received by our email subscribers!
Forth Rivers Trust
The Forth Rivers Trust is committed to protecting and conserving the environment, wildlife and communities within the Forth District, and providing a voice for rivers at a national, regional and local scale. The Trust has supported Unblocktober since its inception, and ran an awareness campaign across its social channels throughout October, sharing facts about FOG and plastic pollution.
The Forth Rivers Trust is aligning its support for Unblocktober with its broader campaign to petition for a ban on plastic wet wipes in Scotland, which you can read about here. The Trust has pledged to continue supporting Unblocktober for years to come, with the aim of using our momentum to generate meaningful policy changes at a national level!
#plasticpollution is scary - help us stop #nonflushables this Halloween. Read our new blog post summarising #Unblocktober????https://t.co/ANJL0d5pCT. You can #backtheban - fill out the consultation at the ScotGov link in next post #the3Ps #onlyraindownthedrain

— Forth Rivers Trust (@ForthRiversT) October 31, 2023
Great Green Systems Ltd
Great Green Systems is a Leeds-based company that specialises in eco-friendly composting and recycling products such as the Green Johanna and Green Cone, which help to keep food waste out of the drains. The team are committed to green living, and have been recycling their own domestic used cooking oil since 2010, for conversion into biofuel.
Great Green Systems were inspired to get involved with Unblocktober after learning about just how damaging sewer blockages really are, and have been promoting the campaign through their blog and newsletter. These messages have received a strong response from their customers, and one couple in their 70s reached out to offer thanks for educating them on the topic - representing proof in action of Unblocktober's core message of changing habits through education!
Take a look at their Unblocktober guide to disposing of used cooking oil below:
Ecotec GMS
Ecotec GMS is one of the fastest growing water and grease management retailers in Europe, and makes the list of nominations in recognition of its revolutionary range of in-sink baskets and filters for the hospitality and catering industries.
Ecotec's innovations remove 99% of food waste and a large percentage of emulsified FOG from kitchen wastewater. These products are widely used by commercial kitchens and food processing establishments, eliminating the causes of drain blockages at the source. Much like last year's award winner Fogfilter, Ecotec demonstrates how technology can offer a practical solution for so many of the issues that Unblocktober is trying to tackle!
Newcomer of the Year Award Nominees
The University of Hertfordshire
One of the UK's most modern and forward-looking universities, the University of Hertfordshire took part in Unblocktober for the first time this year, and committed in a big way with a wide range of digital and in-person awareness activities. As well as promoting Unblocktober across their social and communication channels, the university's environment and sustainability team organised a number of events throughout the month to get the student body engaged.
This included setting up a "What can go down the drain?" game and awareness stall on both of its campuses, as well as litter pick events to prevent further waste ending up in our waterways. Going forward, the university will be making sure that bins are placed in all of its toilets and sink strainers put in place, in order to improve drain health across all of its facilities and halls of residence going forward, ensuring that the lessons of its first Unblocktober have a long-term impact!
Earthtopia
Earthtopia is one of TikTok's biggest eco-community channels, with more than 308k followers - more than Greenpeace, WWF or Extinction Rebellion! This year, they got behind Unblocktober for the first time, creating a video underlining the importance of our campaign in keeping the seas plastic-free.
Earthtopia's support, and the positive reaction to their video, shows the power that new media and the younger generations will have in solving today's most pressing environmental problems. We look forward to working with them again on future Unblocktober campaigns!
When will the winner be chosen?
With such a fantastic crop of nominees, it's going to be a tough job to choose worthy winners in each of the three categories. A panel of organisers from Unblocktober and Lanes Group will be deliberating over the coming days, with a winner to be chosen and announced on November 20th!
Each of our Unblocktober Award winners will win a special commemorative trophy to celebrate their achievement, and will be able to display their digital winners' badge on their website or social media page of choice.
Stay tuned to the Unblocktober blog to find out who the winners of the 2023 Unblocktober Awards will be!